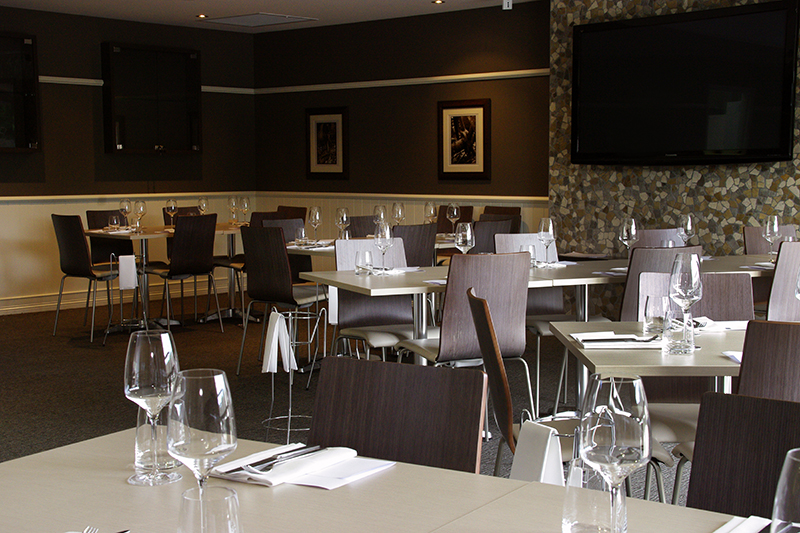 Little Mary's Restaurant and Bar is open Monday to Saturday for dinner, Monday to Friday (for in house guests only) a cooked or continental breakfast and Saturday, Sunday and Public holidays we only offer a continental breakfast . We are working hard to provide you with a warm and welcoming environment in which to indulge in a few cold beverages and some beautiful food. The menu is Modern Australian cuisine and we endeavour to provide you with beautiful food cooked simply with an emphasis on flavour. Our chefs take pride in sourcing local sustainable produce. We look forward to welcoming you to Little Mary's.
Please note the property only does continental breakfast on a Saturday and Sunday morning & Public Holidays. No dinner service on Public Holidays.
Bread
Turkish Bread with Garlic Oil & Dukkah Spice or Whipped Butter 9
Entree
Salt & Pepper Squid with a Crisp Salad & Nam Jim Dressing 15
Garlic Prawns Served in a Crisp Tortilla with Fragrant Rice & Crisp Sweet Potato Shards 17
Southern Fried Chicken Wings with Chipotle Aioli 13
Chicken & Mushroom Aranchini with Aioli 14.50
Roasted Vegetable & Lentil Scrolls with Mango Chutney 13
Kids Menu (Under 12 years only)
Kids Bangers, Mash & Veg 9
Kid's Steak, Chips & Salad 9
Kids Fish, Chips & salad 9
Kids Mini Schnitzel, Chips & Salad 9
Mains
Grilled Barramundi on a Tomato based mixture of Potato, Onion & Black Olives 27
Beer Battered Cod with Tartare, Chips & Salad 24.50
Grilled Salmon with Scalloped Potatoes and Steamed Broccoli and a Citrus Bearnaise Sauce 28
House Crumbed Chicken Schnitzel with beer battered Chips, Salad & Gravy 20
Chicken Parmigiana, Ham, Cheese & Napoli Sauce with Chips & Salad 25
Red Thai Chicken or Vegetarian Curry with Fragrant Rice  25
Pork Ribs Slow Braised with House made Sticky BBQ Sauce, Chips & Salad 28
House Crumbed Seafood Basket with Tartare, Chips & Salad 27.50
Barkers Creek Pork Cutlet with Scalloped Potatoes, Seasoned Vegetables and Apple & Rosemary Sauce 30
Grill
350g Nolan's Private selection Rib eye on the bone 35
200g Nolan's Private Selection Eye Fillet 32
400g Emerald Valley Rump 29
All steaks served with Chips & Salad or Mash & Veg with one Sauce
Sauce: Peppercorn, Mushroom, Diane, Jus, Gravy or Garlic Prawn Topper 9
Sides
Chips 8
Mash Potato 8
Seasonal Vegetables 8
Fresh Garden Salad 8
Onion Rings 8
Dessert
Warm Chocolate Torte with House-made Ice Cream 12.50
House-made Cheesecake with Dollop Cream 12.50
Chef's Fresh Made Ice Cream 10.00
Cheese Plate with 3 Cheeses, Crackers, Dried Fruit & Nuts 20
Wine List
Champagne & Sparkling White
Little Mary's House Sparkling- $6 Gls
Chandon Brut NV- $42 Btl
White Wine
Angove Chardonnay – SA – $6 Gls $26 Btl
Mount Riley Sauv Blanc – Malborough NZ – $7 Gls $32 Btl
Drift Pinot Gris- Marlborough NZ $7 Gls $32 bBtl
Brown Brothers Moscato (sweet) – $7 Gls $30Btl
Leeuwin Art Reisling – Margaret River WA – $8 Gls $40 Btl
Red Wine
Tin Shed Melting Pot Shiraz- Barossa -$8Gls $40Btl
Smith & Cooper Merlot – South Australia – $8Gls $38Btl
Wirra Wirra Churchblock Cab Sav Shiraz Merlot – McLaren Vale- $45Btl
Angove Cab Sav – South Australia -$30Btl
Wynns Coonawarra Estate, Cab Sav, South Australia $45 Btl
Brancott Estate Pinot Noir- Marlborough NZ -$38 Btl
Beers
Corona, Heinekin, Asahi, Guinness, XXXX Heavy, Great Northern, Crown Lager, Pure Blonde, Tooheys Extra Dry, VB, Cider  $7
XXXX Gold $5.5
Hahn Premium Lite $5
Spirits
Basic Spirits $8
Vodka, Gin, Bacardi, Bundaberg Rum, Johnnie Walker Red, Jim Beam.
Premium Spirits $9
Grants Whiskey, Jamesons, Jack Daniels, Tequilla, Southern Comfort, Campari.
Soft Drinks
Lemon, Lime & Bitters $4
Ginger Beer $4.5
Lemon Squash, Coke, Coke Zero, Lemonade, Tonic Water, Soda Water, Ginger Ale $ 3.5
Apple Juice, Orange Juice, Pineapple Juice, Cranberry Juice $4